A Member's Best Friend During a Power Outage
Randolph EMC's new outage text alert program—SPOTT Alerts—provides a convenient way to stay connected during a power outage. Using the everyday accessibility of text messaging, we can quickly and easily communicate about power outages.
Using SPOTT Alerts gives you peace of mind knowing that you won't be caught by surprise. You'll have access to the best information we have available so that you can make plans. Participating is easy—simply list your mobile number(s) on your Randolph Electric account, then text TEXTREMC to 1-877-736-2633. You'll also want to save this number to your contacts so you can quickly report your outage when necessary. PLEASE NOTE: Standard text and data rates may apply.
The next time you experience a power outage, just text our outage reporting hotline at 1-877-736-2633 using the following prompts (keywords):
1-877-736-2633
Number to text to communicate about REMC power outage
TEXTREMC
The initial text to send to opt-in to participate in the text program (number must be on file in your REMC account to activate)
OUT
Report an outage at service address associated with number
STATUS
Request the status of an outage (not available during widespread outage situations)
QUIT
Cancels participation in outage text alerts
HELP
Provides information about REMC's text program & a number to call for additional support
Please note that only these keywords will work with the text program. Additionally, during widespread outage situations, status updates may not be available.
Please see our Frequently Asked Questions section below for more detailed information about how SPOTT Alerts work.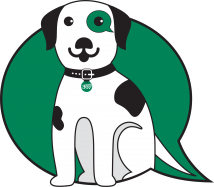 Meet SPOTT
When the lights go out, turn to SPOTT to give you the Status of Power Outages Through Text Alerts.
He's quick to respond, reliable & a doggone good friend to have—especially during a power outage!
SPOTT not only helps REMC sniff out power outages, he watches out for you, too, with status updates and outage restoration notices.
So, make sure your mobile numbers are listed on your REMC account to enroll in SPOTT Alerts today! 
Update your contact information now to have access to this convenient new service!
ONLINE
Update your account information easily and at any time on the Online Member Service Portal. Phone numbers and email are listed in the "Account Profile" section. Please note that mobile numbers may be listed in any phone number field, regardless of how that field is labeled. For example, a number listed in the "Fax" field does not have to be a fax number. The text alert system will recognize a mobile number in any field formatted for a phone number.
BY PHONE
Connect with a Member Service Specialist for assistance by calling (800) 672-8212 in Asheboro 
or (800) 868-7014 in Robbins.